I know a lot of people who are doing the Credit Union Cherry Blossom 5K Run-Walk will be running their first 5K. While a first race can be as intimidating as it is exciting, here are five tips for your first 5K that can help you have a great race day.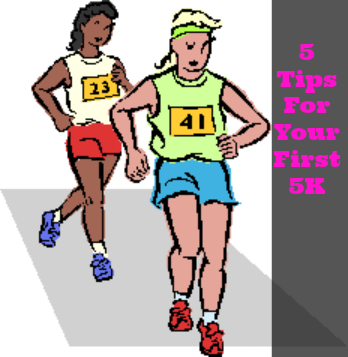 1. Get your race gear ready the night before. The night before the race, get all of your race gear together in one place–race bib and safety pins, clothes, running shoes, hat/visor, sunglasses, sports watch (if you're using one), water bottle (if you're using one), pre-race snack (I like to bring a granola bar to eat about 1/2 hour before the start), cell phone, and anything else you will need. If you plan to use the bag drop, use a fat permanent marker to label your bag with your name and bib number and consider putting a brightly colored bandanna in your bag to help make it easier to spot.
2. Don't wear the race t-shirt to race in. There are people who think that you shouldn't wear the race t-shirt until you've actually finished the race, but I think you've already earned the race shirt by signing up and training, no matter what happens on race day. Still, I suggest not wearing the race shirt on race day because hundreds (if not thousands!) of runners will be wearing the race shirt, which will make it hard for friends and family to spot YOU and cheer YOU on. Expect a chilly morning and dress in layers, and make sure you pin your bib on your inside layer or shorts/pants.
3. Arrive early.  The 5K starts at 8:40, but the elite women's start is at 7:20 and the general 10 mile start is at 7:30, so if you want to be there for the opening ceremonies and singing of the National Anthem, you will want to be there early. Arriving early will give you time to get oriented with the start and finish areas, warm-up, soak up some pre-race energy from the other runners, and use the porta-pottys. 😉 There is not much (any?) parking around the Washington Monument, so the race organizers suggest taking Metro, which is another reason to leave yourself plenty of time. (Please see the Getting To The Race page for more information.)
4. Run your own race. After more than 10 years of running and racing, I still struggle with starting out too fast because I get caught up with all of the other runners who are starting out too fast! I use my Garmin to check my pace throughout a race, but in the beginning of a race I often need to make myself slow down. If you find yourself in a pack of runners going faster than you feel comfortable, slow down and run your own race. If this is your first 5K or your first Credit Union Cherry Blossom run, you're going to set a personal record no matter what!
5. Relax and have fun! The Credit Union Cherry Blossom run really is a great event. You've done the work to get to the starting line, and race day is the time to relax and have fun. Enjoy the majesty of the monuments, the energy of the other runners and spectators, and the beauty of the cherry blossoms!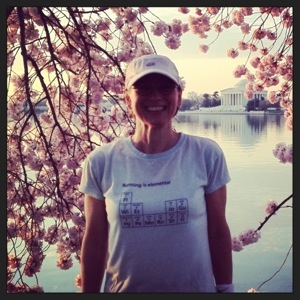 Good luck!
You can read more about Courtenay's running and other adventures on her blog, Running With Perseverance, or follow her on Twitter and Instagram.
Are you running your first 5K this spring?
Do you have any tips to add?